REAL ESTATE SIGNS GET AN UPGRADE
Compass is known nationwide for its technology and it's drool worthy luxury listings. After recently expanding into Seattle, Austin, Philadelphia, and now Atlanta the brokerage is ready to make news again - this time with a literal sign of the changing times.

​​​​​​​This week Compass rolled out the new, tech forward real estate sign. No more tired swinging wood shingles - instead you get LED illuminated, high tech, high design that has more in common with tech giants like Apple than what we're used to hearing from a real estate brokerage. Like other innovations it's making us all think, "Why didn't we do this sooner?"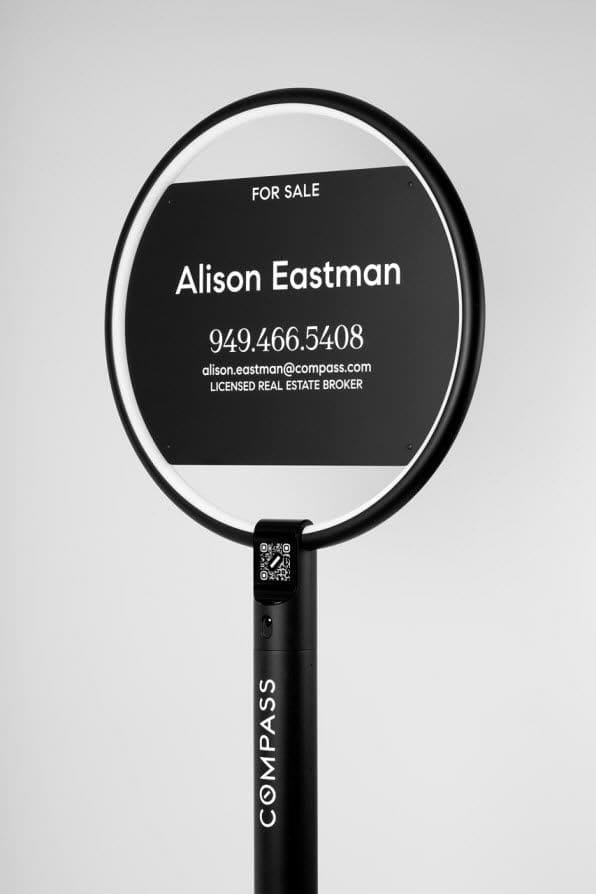 The signs will interface within a 20 ft radius, lighting up as you walk by with agent information and a handy QR code that takes you to the property page. If you've already downloaded the Compass app (available here) then you will get a notification that you're near a Compass listing with a direct interface to the property page.

​​​​​​​The sign itself is a modular design, with a rechargable battery in the base that should last about 25-30 days. Agent information is on a separate piece that can be easily switch out or updated with Sold additions.
And the innovation keeps going! Matt Spangler, Compass chief creative officer, is working next on a fully digital sign that agents can update remotely. Also on the design table is incorporating augmented reality options.

"Say it was just a plot of land—you could see a house modeled on the land, you could change the color of the house with paint, you could see all the neighborhood data, you could see restaurants that are recommended," Spangler says.

​​​​​​​Current timelines put the first batch of the Compass signs on a street near you by late this year.

Want to find out more about the design process behind this icon in the making? Check out Fast Company's in depth article (Click here).