MEMORY CARE IN WASHINGTON
Alzheimer's disease is increasing in Washington. The Alzheimer's Foundation reports 120,000 cases in 2020. By 2025, that number is expected to grow to 140,000 — an increase of 16.7%. In 2019, there were 3,585 deaths from Alzheimer's disease in Washington, which has the 9th-highest death rate in the nation. Memory care facilities care for Alzheimer's and dementia patients in a residential setting. Often, care is provided in a separate, secured unit of an assisted living facility.
Memory care facilities provide those living with Alzheimer's and dementia with care that is tailored to their unique needs. Memory care can take place in its own facility, or as part of a designated wing of another residential care community. Staff members of memory care units or facilities undergo specialized training in caring for those with memory impairment, and the facilities often coordinate social activities and schedules specifically for the needs of those living with Alzheimer's or dementia.
This guide will cover the cost of memory care in Washington, financial assistance options for paying for memory care, free memory care resources in the state and a directory of memory care facilities in Washington.
The Cost of Memory Care in Washington
Because of the specialized staff training and resources required to provide high-quality memory care, memory care typically costs more than other types of residential care. On average, memory care will cost 20-30% more than assisted living.
Assisted living costs an average of $6,000 per month in Washington, with $4,500 being the national median. To estimate the cost of memory care, we've added 25% to the figures for assisted living reported by Genworth's 2021 Cost of Care Survey.
Memory care in Washington averages $7,500 per month. The national per-month cost estimate for memory care is $5,625, a figure that's on par with the neighboring states of Oregon ($6,306) and Idaho ($4,798).
When it comes to Washington cities, memory care costs vary. Seattle is the most expensive, with an average price of $8,438 per month for memory care, while Walla Walla's cost is significantly lower at $4,014. In the middle is Spokane at $6110. Bremerton has a monthly average price of $7,188 for monthly memory care expenses, which is close to the state average.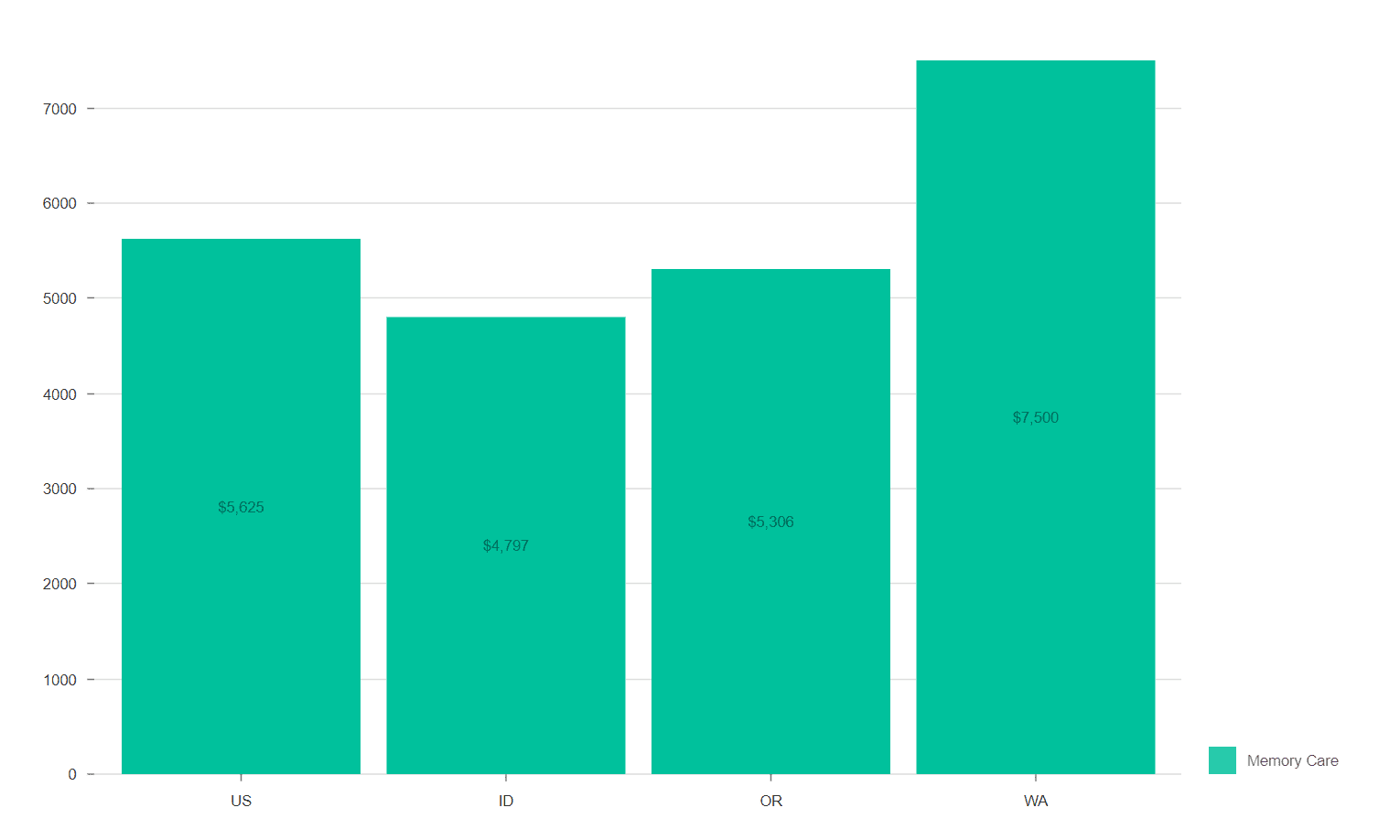 Washington Medicaid Programs for Memory Care
The Washington Medicaid program — known as Apple Health — covers a wide range of physical and mental health services for eligible residents, including seniors with Alzheimer's disease. In addition, there are state waiver programs that provide partial or full coverage for memory care costs at assisted living facilities.
Apple Health Long-Term Services and Supports
Long-term memory care at an approved medical facility is available for Medicaid recipients through the Long Term Services and Supports (LTSS) division. Apple Health also covers doctor visits, emergency care, mental health care, dental care, medical equipment and a wide range of other services that seniors with Alzheimer's or another type of dementia may need.
Who is Eligible: Washington residents over age 18 in need of long-term residential care may qualify for the Apple Health Medicaid program. There are eligibility requirements that include but aren't limited to asset and income limits.
How to Apply: Seniors or their designated representatives can apply for Washington Medicaid online at the Washington Connection website. Telephone applications can be taken at (800) 501-2233. There's also the option to apply in person at a local Department of Social and Health Services (DSHS) office.
The Community First Choice Option
The Community First Choice Option (CFC) helps cover expenses for seniors in need of memory care. This program may help with costs such as room and board at a qualified residential facility.
Who is Eligible: Seniors who qualify for traditional Medicaid and don't exceed asset limits may be eligible for the Community First Choice Option. In addition, applicants must be designed in need of nursing-home-level care by a medical professional.
How to Apply: Applications for the Community First Choice Option can be submitted at the same locations as regular Medicaid. Contact a caseworker at the local DSHS office to apply in person, or call (800) 501-2233 for telephone assistance.
The Specialized Dementia Care Program
Through the Specialized Dementia Care Program, Washington seniors with Alzheimer's or another type of dementia can receive coverage for memory care costs at an assisted living facility. The facility must be Medicaid-contracted to be eligible.
Who is Eligible: Applicants must be Medicaid recipients or eligible for Medicaid. In addition, applicants must have a diagnosis of Alzheimer's or dementia to qualify for the Specialized Dementia Care Program. A DSHS caseworker must also verify the diagnosis and each applicant's need for memory care services.
How to Apply: Contact a local DSHS office to apply for this program. Another way to apply is through a Medicaid-contracted assisted living facility.
Medicaid Eligibility for Seniors in Washington
Seniors applying for Medicaid in Washington state must have an annual income under $30,276 for singles and $60,552 for two applicants in the same household. For two-person households where only one is applying, the annual income limit is $30,276. Assets for single seniors can't exceed $2,000; for couples, the asset limit is $3,000. Two-person households with one applicant must not exceed asset limits of $2,000 for the applicant and $137,400 for the non-applicant.
2022 Medicaid Income Limits for Seniors in Washington
| Family Size | Annual Income Limits | Asset Limits |
| --- | --- | --- |
| Single Person | $30,276 | $2,000 |
| Two-Person Household (Single Applicant) | $30,276 | $2,000 for applicant & $137,400 for non-applicant |
| Two-Person Household (Dual Applicants) | $60,552 | $3,000 |
There are various other eligibility requirements for Medicaid applicants. Some of these requirements that may apply to seniors with Alzheimer's or dementia include:
Aged 65 and over, or
Under the age of 65 and blind and/or disabled
A resident of Washington state
A citizen of the United States or qualified noncitizen
How to Get Help Applying for Medicaid in Washington
Assistance with applying for the Washington Apple Health Medicaid program — and any applicable waivers — is readily available. Seniors and family members or caregivers who can legally apply on behalf of a senior with Alzheimer's or dementia can find help at the following state, local and national agencies and offices.
| Resource | Contact | Description |
| --- | --- | --- |
| Washington Department of Social and Health Services | 877-501-2233 | Designated representatives for seniors with memory disorders such as Alzheimer's can obtain help with Medicaid and waiver applications through their local DHS office. Help is available by calling the number for the appropriate regional office or in-person by appointment during business hours. |
| Area Agencies on Aging (AAA) | Online | Seniors and caregivers can find their local Area Agency on Aging (AAA) through this DSHS online directory. Area Agencies on Aging provide a wealth of resources and services to seniors and their families, including assistance with Medicaid applications. |
| Medicaid | 877-267-2323 | The national Medicaid office can also provide help with Washington state Medicaid applications. There's helpful information on the website for seniors and caregivers and a toll-free number for obtaining help by phone. |

Can You Use Medicare to Pay for Memory Care in Washington?
Unfortunately, Medicare does not generally cover the cost of Memory Care. Most Memory Care Facilities are considered to be "social settings," so Medicare does not cover the cost incurred in these facilities. The only exception to that is if you are receiving memory care services in a Nursing Home. While this situation is much less common, Medicare would sometimes cover the cost, depending on a number of circumstances.
That being said, Medicare does still cover qualified doctor visits, medications, etc., as it would if you were still at home, but it will not cover the cost of care received at the Memory Care Facility.
More Ways to Pay for Memory Care in Washington
In addition to the state programs mentioned above, those looking for resources to finance memory care may consider:
Long-Term Care Insurance: Depending on the policy details, long-term care insurance may be used to pay for memory care services. It's best to sign up for a policy early, as coverage will likely be denied if one already has long-term care needs. More information about the intricacies of long-term care insurance can be found at longtermcare.acl.gov.
Reverse Mortgages: Reverse mortgages allow some homeowners to take out a loan as an advance from the eventual sale of their primary residence. This can be a good way to fund memory care in the short-term, but the loans will need to be paid back after the sale of the home. The most commonly used type of reverse mortgages for seniors is the Home Equity Conversion Mortgage, which is the only reverse mortgage insured by the federal government.
Veterans Benefits: The Department of Veterans Affairs offers several programs that veterans and their spouses may use to cover health care needs such as memory care. More information about these programs can be found on the VA website.
Memory Care Laws and Regulations in Washington
Memory Care Regulation
Washington State defines assisted living facilities as residential settings that are meant to provide housing and basic services, and that take responsibility for the safety and well-being of seven or more residents. This includes facilities that specialize in providing care for individuals with dementia or other memory impairment issues. Licensing is provided by The Washington State Department of Social and Health Services' Aging and Long-term Support Administration.
During the licensure process, facility owners and other key staff must undergo background checks. The DSHS conducts inspections at least every 18 months to ensure compliance.
Facility Scope of Care
In Washington State, assisted living facilities are allowed, but not required, to provide supportive health services, nursing care or assistance with the activities of daily living. If a facility opts to provide these services, they must offer at least the minimal level of assistance with eating, bathing, dressing, mobility and other personal hygiene tasks. Facilities may also provide services, such as glucose monitoring and mental health care. They must supply three meals daily, and accommodate physician prescribed special diets.
Facilities that are contracted with the state to provide dementia care must tailor care, supervision and activities to the individual needs of residents, which includes coordinating with family members to honor preexisting routines and preferences. Intermittent nursing services, medication assistance and personal care support must also be provided.
Admission Requirements
Residents who may be admitted:
Individuals whose needs can safely be met by the facility's staff and through reasonable accommodations as provided for by state and federal law
Residents who may not be admitted:
Individuals who require nursing or a nursing facility level of care (unless an RN is available on-site)
Individuals who need frequent evaluation by a nurse (excluding residents who are suffering from a short-term illness or receiving hospice care)
Individuals who jeopardize the safety of other residents
Care Plan Requirements
Prior to admission, the ALF must obtain a thorough assessment of each resident's needs and preferences. Upon move-in, the facility must complete an initial resident service plan based on residents' needs. A full evaluation of the individual's functional and health needs must be performed within 14 days of the move-in. Additional limited assessments will be required if a resident's condition changes.
Medication Management Requirements
Residents of Washington based assisted living facilities may either self-administer medication or have medication administered via nurse delegation, depending on their negotiated service agreements. If their license permits, the facility may also let a resident's family member administer prescribed treatments or medication as long as a written medication or treatment plan is provided.
Facility Requirements
For facilities licensed after July 1, 1989, up to two residents may share an apartment. For dual occupancy living spaces, there must be a mutual agreement to share a sleeping room. Facilities licensed prior to that date may accommodate four residents to an apartment. Facilities with common-use bathrooms must supply at least one toilet and one sink for every eight residents, and one bathing fixture for every 12 residents. All floors that have sleeping rooms must also have a toilet room.
Facilities that provide state approved dementia care must also supply residents with a safe outdoor space that includes walking paths.
Staffing Requirements
All ALFs must employ an administrator and sufficient staff to provide the care and services needed by each resident, as defined in the negotiated service agreement. Facilities that admit residents who require a nursing-home level of care must have a registered nurse on-site at all times.
Administrators and long-term care workers must complete a two-hour DSHS approved orientation. Staff training must include 70 hours of DSHS approved basic training, three hours of DSHS approved safety training and two hours of HIV/AIDS training. Staff and administrators must also complete 12 hours of continuing education annually. Administrators and long-term care staff must complete CPR and first aid certification, and maintain a valid card for the duration of their employment. At least one staff member aged 18 or older with CPR and first aid certification must be present and available at all times.
Staff who are responsible for nurse delegation or diabetic care tasks must be a certified home care aide or a certified RN assistant. Prior to accepting nurse delegation tasks, these individuals must complete nurse delegation or core diabetes training with DSHS contracted community instructors.
In addition, facilities that offer dementia care services must employ 24-hour awake staff. Administrators and staff caring for dementia patients are required to complete specialty training within 120 days of beginning patient care services. Training is outcome based and includes the skills and core knowledge needed to safely and effectively care for special needs residents. Direct supervision is required until the staff member completes all training modules successfully.
Medicaid Policy
Through Washington Medicaid, qualified individuals can receive residential care services in state contracted assisted living facilities. Residents of ALFs may be eligible for personal care and other services through specific Medicaid waiver programs.
Reporting abuse
Any suspected abuse should be reported online through DSHS or by phone at 800-562-6078. Complaints can include failure to provide care, unsafe or unclean facilities, improperly prepared food and patient neglect. Reports may be made anonymously.
Complaints about elder abuse can also be reported to a county Long-Term Care Ombudsman. The state Long-Term Care Ombudsman can be reached by telephone at 800-562-6028.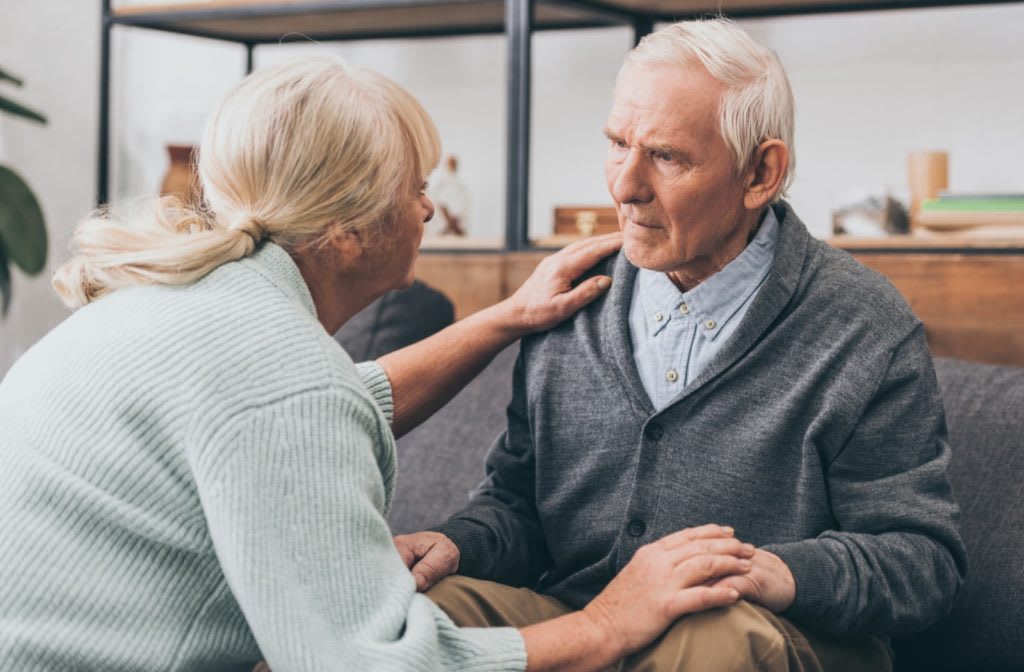 Free and Low-Cost Resources for Seniors in Washington
There are multiple resources throughout Washington state that may be helpful to seniors with memory care issues, their families and caregivers. These organizations educate the public on the topics of dementia and Alzheimer's disease, and some can connect families and seniors to clinical trials, support groups and additional resources.
| Resource | Contact | Description |
| --- | --- | --- |
| Alzheimer's Association Washington State Chapter | 800-272-3900 | The Alzheimer's Association has a Washington state chapter that serves seniors and caregivers in 47 counties throughout the Pacific Northwest. The website contains information about Alzheimer's and dementia to educate family members, including ways to get involved. This association holds local and national awareness and fundraising events and contributes to Alzheimer's research efforts. The toll-free helpline is available 24/7. |
| Alzheimer's Disease Research Center | 855-744-0588 | Funded by the National Institutes of Health (NIH), the ADRC is at the forefront of Alzheimer's and dementia research and education. There's news on the website regarding clinical trials and helpful resources for caregivers and families of seniors with Alzheimer's and dementia. |
| Aging and Long Term Support Administration (ALTA) Dementia Action Collaborative (DAC) | 360-725-2300 | The Dementia Action Collaborative (DAC) hosts two annual public meetings for caregivers and family members of seniors with any form of dementia, including Alzheimer's disease. The website has helpful tools and educational resources on the topic, including a series of videos. |
| Dementia Support Northwest | 360-671-3316 | Families of seniors with memory issues such as Alzheimer's disease or another form of dementia can find support through this organization. There are community events and support groups, along with educational seminars. This organization provides electronic technology to prevent wandering through Project Lifesaver and Whatcom County Search and Rescue. |